India will move you, sadden you, excite you, and frustrate you, all at different times. As mentioned in my last post, it's a country of diversity from the varying religions, foods, languages, dress and landscapes. With being such a large county, no doubt, there's a lot to see. Jack and I arrived in Bangalore on a 30-day visa without a plan or a driver. We had a tentative idea around where we would visit, but decided to work out how to get from A to B ourselves. There were few people who recommend that we hire a private driver to get around, which would have been much easier. However, part of the Indian charm lies in the public transport experience. Not to mention, it's incredibly cheap. Admittedly, it's a challenge travelling around India. It takes a lot of patience, understanding and resilience for smelly bathrooms. But it's certainly achievable. There's no shortage of trains, buses, taxis and rickshaws to take you from one place to the next. Just anticipate an interruption of some kind, like a breakdown, transfer, or bad traffic. You will get there, eventually.
We chose to travel from G Kallupatti in the South of India, all the way up to Rishikesh in the North, stopping at ideal locations along the way.
Here's a list of my top 10 places from South to North:
1.     RTU School – G Kallupatti – Tamil Nadu
Reaching the Unreached (RTU) in an organisation and school that helps provide basic needs for the poorest, most marginalised woman and children in rural villages in South India. We went to this particular school because Jack volunteered there 10 years prior. It's amazing how much progress is being made. The kids are provided with a safe place that has sufficient food, shelter, clothing, and education.  RTU is always looking for sponsors and volunteers if you are interested. I can attest to the sincerity of their mission, which is simply to help those who need it.
2.     Scenic drive Theni to Munnar – Kerela
This drive is approximately 80 km from Theni to Munnar. You can easily take a bus or taxi to get there. While the roads are steep and bends are windy, the surrounding landscape is stunningly beautiful. Imagine a lush mountainous region, with waterfalls, tea plantations and towering hills. It's also one part of India that has clean countryside air – a rarity in this part of the world. Once you arrive in Munnar there's an abundance of hikes, viewpoints and tea factories you can visit.
3.     Fort Kochi Fishing Village – Kerala
Fort Kochi is a water-bound region outside the city of Kochi. It's a fishing port that's coastal, small and easy to get around. We explored the area using bicycles, going from narrow backstreets, down to the waterfront and across to the strip of restaurants for an indulgence of fresh seafood that's caught that day.
4.     Backwaters – Kerala
Kerala Backwaters is a network of rivers, lakes, and cannels strung together by grassy banks, rice fields and endless palm trees. This makes for a peaceful lagoon experience, ideal for canoeing and house boating. There are several tour companies that offer different houseboat options including 1-day, overnight and 2-day experience. We just did the full day package and stayed overnight in Fort Kochi, which was sufficient enough for us, and cheaper.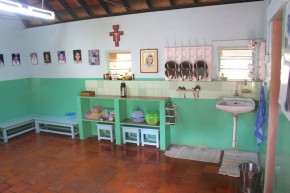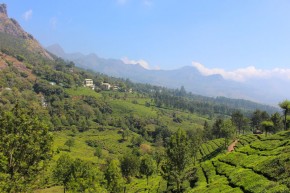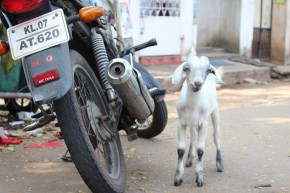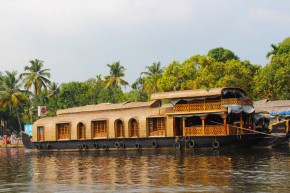 5.     Patnem Beach – South Goa
Patnem beach is the perfect place to escape the hustle and bustle of India's busy cities. Granted, it is touristy spot that lacks authentic Indian culture. However, it's a peaceful and beautiful destination that will help you re-group. For us, it was highly necessary. My days were spent beach lounging, restaurant hopping, doing afternoon yoga, followed by a coastal run and sunset swim. It was heaven! We stayed at an awesome place on the beach called Sea Front Beach Huts. There's an excellent outdoor yoga studio right beside it as well.
6.     Crawford market – Mumbai
Located in central Mumbai, Crawford market sits as one of the oldest, largest and busiest markets in the city. Stalls of food and merchandise are lined up side by side in parallel rows that are seemingly never ending. Be sure to keep moving with the traffic of people, or you just might get run over. It's a highly stimulating experience – a party for all the senses.
7.     Taj Mahal Palace – Mumbai  
A famous, beautifully designed, luxury 5- star hotel that can be seen from the many roof top patios in Mumbai. However, seeing it from afar is a bit of a tease. Jack and I decided to go directly to the front door and walk inside as "potential" guests. For a second, we felt like we travelled back in time. For a second, we forgot that we were budget backpackers. As Jatin Shah describes, "It's a study in luxury with its vaulted alabaster ceilings, onyx columns, archways, hand-woven silk carpets, Belgian crystal chandeliers, cantilever stairway and collections of art and furniture."
8.     Ambrai Restaurant – Udaipur – Rajasthan
Udaipur is an ancient city, surrounded by palaces, canals, and water. It has a romantic vibe with a European feel, sometimes referred to as the "Venice" of India. Ambrai is a fine dining restaurant that sits on the water with spectacular views of the city and all its enchantments. The delicious food they offer is mainly Indian, but there are some Western dishes to choose from as well. You won't regret it!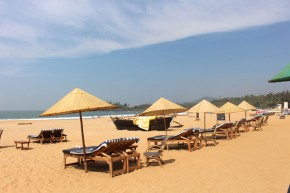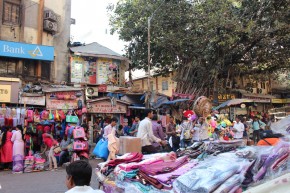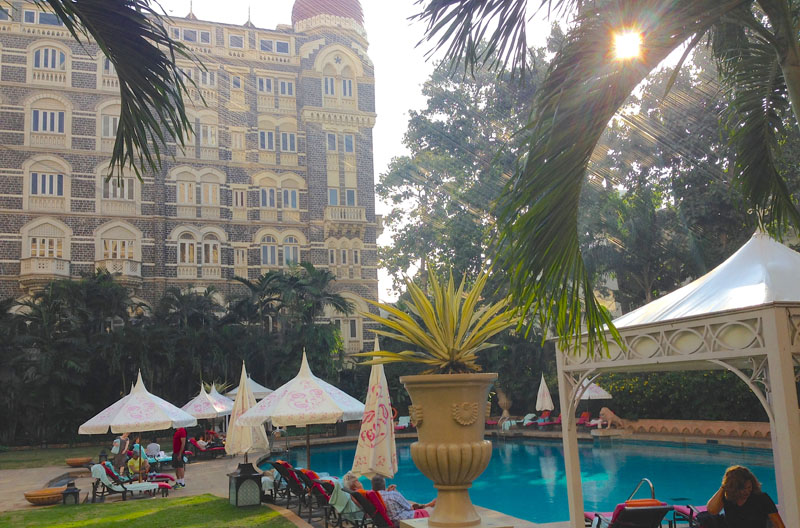 9.     City Palace – Udaipur – Rajasthan
Roam the hallways of kings, see the courtyards of royalty, and admire the meticulously designed floors, walls and ceilings. The City Palace in Udaipur is an architectural masterpiece offering panoramic views of the whole city. You can either pay for a tour guide, or walk around at your own pace with a headset. Not only will you learn some interesting history, but you will be mesmerised by the structure and surrounding areas.
10.  Lakshman Jhula – Rishikesh – Uttarakhand
Rishikesh is famous for being the yoga capital of the world, a place where religion and spirituality run deep. Laxman Jhula is a 450-foot iron suspension bridge that runs over the Ganges, which a sacred river respected by many. This is a highly visited area for tourist, as it's connected to many restaurants, shops, ashrams, temples and markets. Not to mention, it's a pretty nice view of the water and shoreline from the centre of the bridge. It's common to hear music playing around sunset, while people practise their daily mantras, meditation and worship.
Thanks for reading! Stay tuned for my next entry on trekking in Nepal…