Once ruled by the Ottoman Empire, later to be allied with the Soviet Union, interconnected with the losing side of both World Wars, and Communist for over 40 years. No doubt, Bulgaria has a fascinating, but rather tragic history. I was about to learn all about it!
After spending 7 weeks in Greece, Jack and I headed to Bulgaria in South Eastern Europe. While I've travelled to your 'usual' Western European countries before, this was new territory for me. I had absolutely no idea what to expect. Once we arrived in Sofia (the capital city) I knew it would be an entirely different European experience than what I was used to.
I was instantaneously intrigued by Bulgaria's culture. There was a seemingly obvious Russian influence in the people's demeanour, religious beliefs, language, clothing and architecture, which is notably from past ties with the Soviet Union. People had a hardness about them, a strong front, like a survival technique from a history of brutal and bloody wars. Even their coat of arms motto is 'unity makes strength.' Yet, locals are proud and passionate about their country. Tragic or not, they are willing to share if you are willing to listen.
Bulgaria has four seasons, it's own currency, and no shortage of Orthodox churches. The country is known for it's mountainous landscapes and hiking culture, claiming a portion of the infamous Balkan Peninsula. The region provides an abundance of fresh fruits and vegetables, making the Shopska Salad a true delight! Daily markets and stalls offer a variety of foods from golden honey, to freshly picked berries, heirloom tomatoes and homemade cheeses. While tourism is rising, the culture maintains a unique authenticity, making Bulgaria well worth a visit.
Here are some top highlights from our 6 weeks in Bulgaria:
Sofia:
Sofia is Bulgaria's capital city – the most populated and economically stable. The city is busy and vibrant with numerous shops, cafes, bars and historical monuments. There are a couple good walking tours offered (donation based) including a free food tour with Balkan Bites. We stayed at an amazing hotel, perfectly located, called 5 Vintage Guest House. There is no shortage of places to eat, but I highly recommend Moma, Made in Home and The Taj Mahal. For afternoon drinks and city views, check out Sense Hotel Rooftop. For fancy evening beverages, go to The Cocktail Bar. If you're feeling adventurous, you can easily take a taxi out for Aleko Hut and explore Vitosha Mountain. Be sure to arrange a ride there and back with your driver.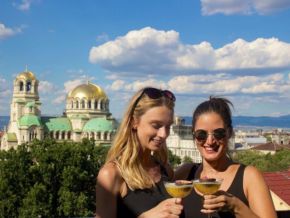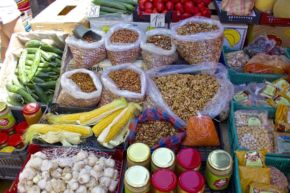 Bansko:
Located on the foot of the Pirin Mountains, with an elevation of 927 meters, Bansko is a perfect place to escape the hustle and bustle of our busy lives. While Bansko is known for it's winter Ski Resorts, tourism is rising all year round with the availability of epic hiking trails, natural hot springs, gondola rides and rafting excursions. Plus, Bansko is home to a newly established coworking space that attracts digital nomads and location independent travellers from all over the world. At the coworking space, you can easily get your work done, as there is good Wi-Fi and comfortable desk space. But most importantly, you'll have plenty of social events to choose from, with a community of good people. I really enjoyed my time there and definitely recommend checking it out.  Ultimately, Bansko is quaint, clean, adventurous and absolutely beautiful. See for yourself!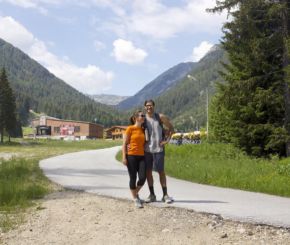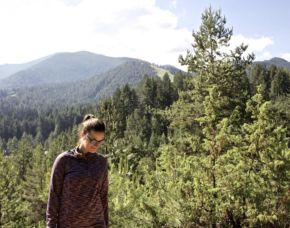 Plovdiv:
Known for its trendy bars, hipster lane ways, street art and history. Plovdiv is one of the oldest inhabited cities in Europe, combining ancient with modern. The shopping center actually sits on top of an ancient stadium that was buried for centuries. You can walk through the entrance (Gladiator style) and sit on the marble steps where 30 000 spectators once sat during the rule of the Roman Empire.  For budget accommodation that's in a great location, you can check out Star Hotel. For some interesting history, try the free daily walking tour. You can treat yourself to a nice meal at Hemmingway, followed by a majestic experience watching the Opera from an ancient theatre. For some exercise, walk from town to Alyosha (the hill) which has incredible views of the entire city. Sunset is the best time to go! We found a delicious menu for both breakfast and lunch at Pavaj. Lastly, for a really good coffee (hard to find) go to Monkey House.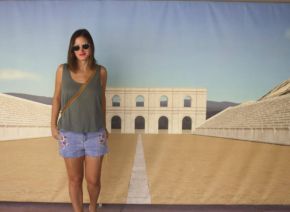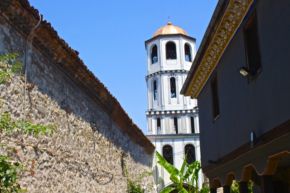 With the fascinating history, mountainous landscapes, cool cites, mountain villages and unique culture, I highly recommend going to Bulgaria. Be sure to go with an open mind and a deep respect for their past.
Thanks for reading!