My lips are cracked, my legs are heavy, my feet are begging for a break. I haven't washed my hair in 4 days and my last shower was in a room of 2 degrees, with water so cold, I washed in less than 15 seconds. My skin is dry and itchy and I've been wearing the same 3 outfits over the past week. Overpriced Mars bars have become my new source of energy. I go to sleep with my winter jacket, beanie, mitts and two layers of pants on. I trek for approximately 5 hours a day. My diet consists of fried eggs, potatoes, Dhal baht (rice, curry, lentil soup) and the occasional pasta with tuna. I order black masala tea just to warm my hands. Finally, getting up to use the washroom in the night feels like a dreadful chore that I'd happily skip, if it were humanly possible. But pain or no pain, this trek is one of the best things I've ever done. In fact, the painful moments made the experience feel raw and exciting. Each day, you push your body and test your limits, keeping in mind one goal – getting to base of that mountain.
Arriving in Kathmandu 
After being in India for 4 weeks, I was ready for a new country. My patience for bustling traffic, horns, hustling, spitting, pollution and confined spaces, was hanging by a thin thread. I was in serious need of some clean air, open space, and exercise. It was time to get out of India and explore Nepal.
Funnily enough, I didn't put much thought into Nepal before going. Of all the places I'd been to, I looked at Nepal as more of a stop over, rather than a place to get really hyped about. As we flew into Kathmandu's International Airport, I knew I was highly mistaken. Off in the horizon was a range of jagged blue rock, frosted in snow, stunningly beautiful – Hello Himalayas!
Everything felt right after landing in Nepal, from the seamless visa process, to our airport pick up, to the quality of our hotel, to our first local meal. While Kathmandu is still a hectic city, it's a lot less chaotic than cities in India. People are typically more gentle, less aggressive, kind-hearted and don't really hassle you to buy things. As you can imagine, this was very refreshing for us.
Admittedly, we had some help with organising the trip through a recommended trekking company called All Nepal Hiking. After taking on Bali, Sri Lanka and India on our own, we were ready for a break. Essentially, the company planed an itinerary for us over 15 days, which included a couple days in Kathmandu and Pokhara. During the city tour of Kathmandu, we were confronted with the rubble of what was once buildings, temples, and homes. The 2015 earthquake left devastating damage in certain parts of Nepal, leaving many people homeless. Even now, some people sleep in tents outside of their still standing houses in fear of a reoccurring earthquake. However, many programs and fundraising have been set in place to support the communities affected, so there is seemingly progress being made.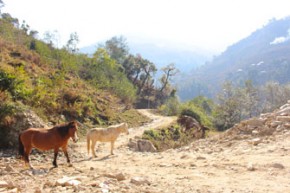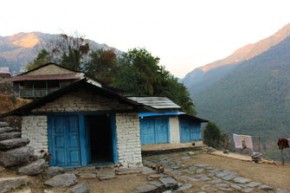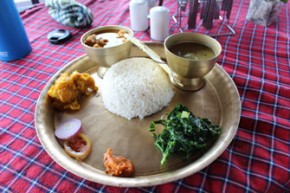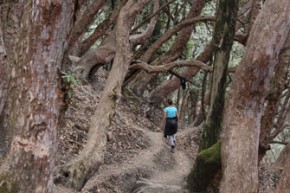 Prep for the Trek
Spring in Nepal is the second highest season for trekking. Being that Jack and I arrived in February, we knew tourists would be hard to come by. While this notion tickled our fancy, it meant that we had to purchase winter jackets, pants, mitts, hats, gloves, neck warmers and thermals for the fresh mornings and cold nights. Also, climbing through dirt, rock, slate and snow calls for proper footwear, so we purchased quality hiking boots as well. Thankfully, Katmandu has plenty of options and affordable prices. Lastly, we got a first aid kit with bandages and disinfectant ointment for blisters and cuts. Plus some tablets for altitude sickness and water drops. While altitude sickness wasn't a worry for me, it's important to be prepared, just is case.
Where to begin?
After doing some research, we decided to try Annapurna Base Camp Trek. It's a challenging trek, with shining reviews, and not as intimidating or expensive as Everest. Mt Annapurna is the 10th highest mountain in the world, so as you might have guessed, trekking to the base of it is an incredible experience. The journey takes approximately 10 days starting from Pokhara, or rather "Lake City." Pokhara is a great escape from the busyness and dustiness of Katmandu. There's a river surrounded by lush greenery that you can take a rowboat out to at sunset, followed by a delicious meal at Café Concerto – a nearby Italian restaurant. We treated ourselves to a nice meal before taking on the mountain. Luckily for us, the fees paid to All Nepal Hiking meant that we had a guide and porter to help us get to and from the mountain in one piece. So, after a good nights sleep in Pokhara, we woke up, packed our bags and drove 42 km to Nayapool – where it all began. Now, the only thing left to carry me for the next 10 days, was my own two feet.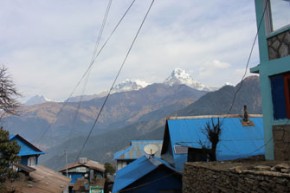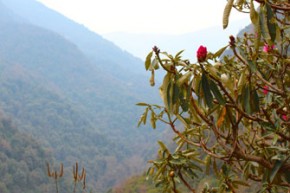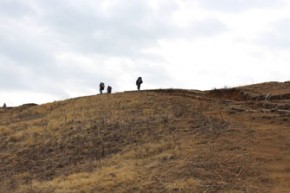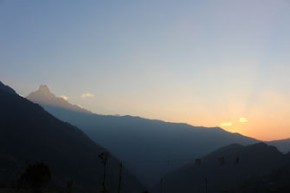 What to expect?
I grew up in a small town, surrounded by open fields, bush and fresh air. Perhaps that's one reason why I have an undeniable craving and appreciation for the outdoors and natural landscapes? For me, trekking in the Himalayan Mountains was really special. Everything about the place from start to finish was beautiful. From the small mountain villages and farmlands, to the waterfall crossings and open pass bridges. With the air so crisp and fresh, the springs clean enough drink, and the sound of sweet singing birds, tiny rapids, and ruffling tree leaves. There are no vehicles around to pollute or interrupt. The only traffic jams consist of a few horses, mules, and buffalo, going up and down between villages with supplies. When you hear the sound of tiny bells in the distance, that's your signal to move aside for the animals to pass. Finally, the enormous surrounding mountain ranges have an energy of their own, ultimately bringing you closer to nature, releasing emotions, giving clarity and inspiring creativity. The land feels enchanted, almost fantastical in some areas, providing a meditative environment as you put one foot in front of the other in your ascent.
After completing this particular trek, I can now understand the appeal in climbing mountains, especially when you get to the top. While I'm not going to tackle Everest anytime soon, I've had a taste of being up close and personal with these gigantic rocks and all their glory. Without doubt, this will not be my last trekking adventure.
As Cheryl Strayed wrote in her best selling book Wild, "Uncertain as I was as I pushed forward, I felt right in my pushing, as if the effort itself meant something. Of all the things I'd been sceptical about, I didn't feel sceptical about this: the wilderness had a clarity that included me."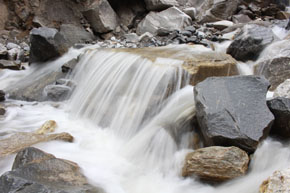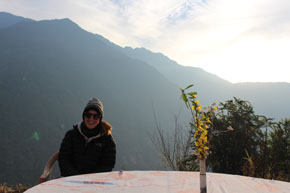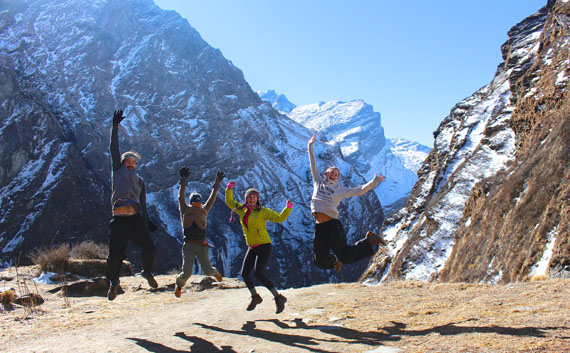 Top picks – Nepal, Asia 
Top Restaurant (pricey but nice) – Café Concerto, Pokhara
Top Restaurant (cheap and cheery) – Himali Kitchen – Kathmandu
Top Activity – Annapurna Base Camp Trek, Himalayas
Top View – Annapurna range, Himalayas
Top Education – Monkey Temple, Kathmandu
Top Trekking Company – All Nepal Hiking (guide & porter)
Top local dish – Buff Chili (dried buffalo marinated in chili & garlic) with Dhal baht (rice, curry, lentil soup)
Average cost of standard meal with drink = $7-8 dollars per person
Thanks for reading!