We all have different interests and motivations for travelling so I can't recommend things that will be universally enjoyed by everyone. All I can do is explain my perspective and offer advice based on my experience. As a reader, you choose what do with it, if anything at all.
As promised in my last post, here's a summery of each place I visited in Bali:
Uluwatu
I had 27 days to explore Bali and I wasn't about to nest up in a luxury villa in Seminyak and call it a day. I wanted to see as much as possible. We started in the South part of the island in Surfer babe central, Uluwatu. This place is a paradise for those who can catch waves and attracts some of the best surfers in the world, both male and female. It's a young bumping part of the island with a few good restaurants, a couple good beaches and some cool temples. If you can't surf, like myself, paddle boarding at Padang Padang beach is a great alternative. Also, be sure to catch the sunset on one of the patio's looking over Uluwatu beach, ideally with a cold Bintang.
Seminyak
You might have heard of Seminyak, the popular beach town in the South of Bali that everybody goes to. At first I was a bit reluctant to hop on the tourist train, but after being there for 6 days, I'm really glad I did. Seminyak has incredible restaurants with absolutely delicious food. Additionally, the beach is long, clean and well kept, making for enjoyable beach days and nice strolls along the water.  However, being a touristy spot, the prices are more expensive, but the quality is fantastic. A few of my highlights included a funky Surf Shop café called Drifter, pool lounging at Potato Head and dining at an artsy tapas restaurant, La Favela.
Ubud
Ubud is considered the cultural hub of Bali and is often referred to as "the city of ceremonies." Here you can find temples, traditional Balinese dancing and spiritual communities. It's seemingly pretty normal to come across a parade of locals in the streets celebrating something in accordance to their religion or beliefs. I found Ubud to be surprisingly busy with a lot of traffic. While I was staying in the centre of the town, I spent much of my time at Yoga Barn or escaping to the rice fields. However, I really enjoyed and would highly recommend doing Campuhan Ridge Walk and Blanco Museum. As for food, there were 3 restaurants that stood out to me including Taco Casa, Alchemy and Cafe Lotus.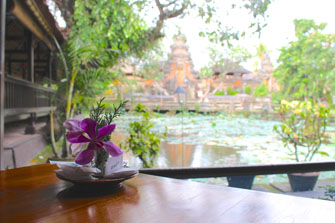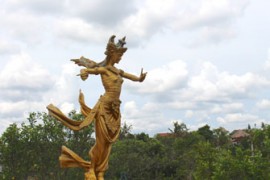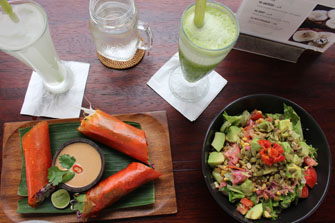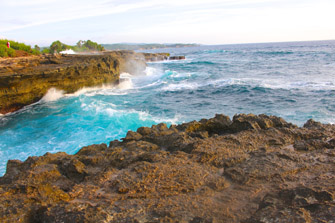 Lovina
It's rural, scrappy and certainly less touristy than other places in Bali. If you want to go off the beaten track, head to Lovina – a small fishing village up North. Granted, there's not a lot going on, options are limited, beaches aren't clean and food is pretty average.  However, there's hardly any traffic so you can easily take a motorbike wherever you want. Plus, there's beautiful mountains and hiking trails in surrounding areas. On our last day, we took a bike through local villages making our way to Sekumpul Falls. Imagine being surrounded by lush green forest, while swimming in deep dark water, hearing the crashing of falls, while watching the mist glitter in the sun. For a moment you escape your mind and embrace the power of Mother Nature. You just feel alive! It's a relatively challenging hike down and up – but it's well worth it.
Nusa Lembongan
Just a 45-minute ferry ride from Sanur, sits a small island of the South East coast of Bali. It's quiet, laidback and easy to get around. Think coconuts, palm trees, teal water, colourful sunsets and fresh Seafood. There's no shortage of accommodation around either. I recommend staying at Nusa Lembongan Garden Cottages. You have your own villa, shared pool, great service and a just short walk to the beach. As for restaurants, our "go to" was called Sandy Bay Beach Club – a relaxed pub along the water with plenty of local and international dishes to choose from.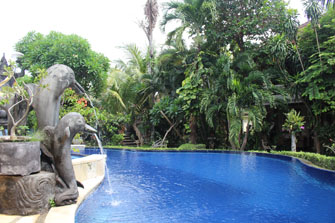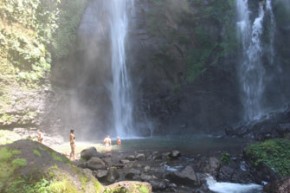 Ultimately, Bali wasn't my favourite place I've been to, but it's still cool to check out. It was interesting and fun to learn about Balinese culture, dine at some delicious restaurants, chill at the beach, cruise on the back of a motorbike, hike through mountains and rice fields, practice yoga in Ubud, and chase some waterfalls in Lovina. Not the mention, all the super rad people we met along the way.
Top picks of Bali, Indonesia:
Top Restaurant (pricey but nice) – La Favela, Seminyak
Top Restaurant (cheap and cheery) – Taco Casa, Ubud
Top Activity – Campuhan Ridge Walk, Ubud
Top View – Sekumpul Falls, Lovina
Top Education – Blanco Museum, Ubud
Average cost of standard meal with drink =$10-13 dollars per person