After 2 months of adventuring across Vietnam, it was time for a relaxing holiday that didn't involve motorbikes or sore bums. While my partner in crime has been to Thailand a few times, it was a first for me.  Yep, I was about to take my Thailand virginity. Even with hearing never ending stories of white sand beaches, emerald waters, mushy shakes and full moon parties, I had to go experience it for myself. My newsfeed and instagram over the years has been bombarded with Thailand pictures, it's seemingly one of the most travelled to destinations in the world. I had an inkling that I already knew what was coming my way from the many stereotypical photos of elephant rides, tiger cuddles, painted faces and buckets of rum. Yet, my curiosity lingered and even without the element of surprise, I was still blown away by the beautiful surroundings. There's a reason why so many people venture to Thailand.
We spent 6 weeks travelling from place to place, starting with the Islands in the South and finishing with the hills in the North. We took 10 days out of our trip to participate in a silent meditation practice called Vipassana (highly recommended). Aside from that, we were making strides and covering a lot of ground.
Here's a summery of my highlights from Thailand including destinations, accommodation, restaurants and activities:
1.     Tree House Silent Beach – Koh Samui
Here you'll find beachfront bungalows on Maenam Beach. It's a quiet, small stretch of beach, away from touristy areas, so you can swim, dine and read in peace. If you want to head into town for some action, scooters are easily accessible. You fall asleep to the waves and wake up to the birds. Plus, there's an amazing restaurant on site serving delicious Thai curries and daily specials. Not to mention ice-cold coconuts and healthy smoothie options.
2.     Santiburi Samui Country Club – Koh Samui
For a little bit of sport, head to this golf course. It's set in the Northern Hills of Koh Samui, above sea level with ocean views, coconut plantations, and lush tropical mountains. While you can play 18 holes, the driving range is also available and a lot of fun.
3.     The Sanctuary – Koh Phangan
The name says it all – yoga, detox, massage, meditation and yummy healthy food. The Sanctuary is a resort and healing center on a quiet beach in Koh Phangan. You can either stay in the accommodation, or just hang out at the restaurant and join some classes.  Often, there are different talks, markets and activities taking place as well.
Basic, cheap and lovely beach huts, perfectly situated, surrounded by jungle gardens. Out front has a porch with a hammock to swing your afternoon away. You're a five-minute walk to an outdoor yoga studio (Blooming Lotus) and a two-minute walk to the beach. Not to mention, the restaurant is pretty much at your doorstep. Talk about bliss!
5.     Full Moon Party – Koh Phangan
It seems everyone from 18- 20 years old makes it to the full moon party. With me being 28, I had to see what all the fuss is about. People are dressed in bright tacky colours, faces painted and "full moon" written somewhere on their bodies. The streets are buzzing with street food venders (Pad Thai) music and a lot of drunken screams. People are excited and ready to dance until sunrise on the beach. It was fun to experience, just once!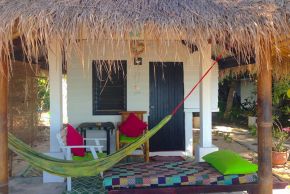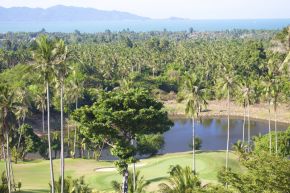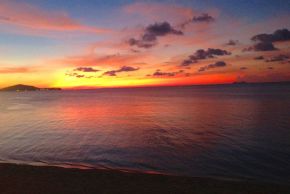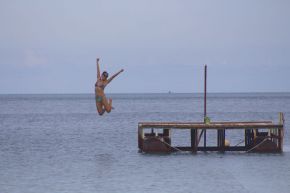 6.     Hippo Burger Bistro – Koh Tao
Need a break from Thai food? This is your best bet! Pool tables, outdoor patio, beers on tap, long tables and delicious American style burgers of all kinds, even the Veggie burger is tasty!
7.     Coconut Monkey Cafe – Koh Tao
Fruit smoothies, good coffee, vegan deserts and healthy food. This beachfront café is a great place for breakfast or lunch with an abundance of nutritional foods to choose from. It's a casual and cozy atmosphere with couches to lounge on and acoustic jams playing in the background.
8.     Ocean Sound Dive & Yoga – Koh Tao
Koh Toa is the smallest and furthest south island from the mainland. It's the place to go if you want to learn how to breathe under water with the fish. People come from all over the world to get the best service at the most affordable prices. Being on the bottom of the ocean and knowing how to support yourself down there, is an incredible skill to learn. Not to mention, extremely cool. On graduation day, you receive an open water diver certificate (PADI) that allows you to do "fun dives" anywhere in the world.
9.     Krabi Cookery School – Krabi
Red curry, green curry, massaman curry, pad thai and spring rolls. The local food in Thailand is incredible. At Krabi Cookery School you can learn how to make all the traditional Thai favourites and then eat them afterwards. Yummy!
10. Elephant Nature Park – Chiang Mai
Spend the day with rescued elephants at a rehabilitation centre. At Elephant Nature Park you do not ride or paint elephants, but simply participate in lending a hand in their daily activities like eating and bathing. Nearly all of the animals on site (elephants, cats, dogs) have been saved from unfortunate circumstances and abusive owners.
11. Street Pizza & Wine house – Chiang Mai
Italian food is my weakness. It doesn't matter where I am in the world, I always crave it at some point. Street Pizza & Wine house is absolutely delicious with seemingly authentic Italian pizza and a great wine list. If you find yourself in Chiang Mai, check it out!
12. Silhouette By Reverie Siam – Pai
Think Great Gatsby, 1920's dinning room, surrounded by panoramic views of unspoiled jungle mountains. The food is a combination of Mediterranean cuisine, with Thai ascents and an extensive tapas and wine list. It's an enchanting and romantic vibe that will leave you feeling like royalty. Indulge and enjoy!
Pai is a small town in Northern Thailand. It's a perfect place to escape if you're feeling overwhelmed by busy Bangkok. There's no shortage of cafes, restaurant and markets to keep you entertained. Best of all, you're surrounded by beautiful mountains, waterfalls and hot springs. The natural hot springs are hidden away in the jungle, so you can sit and relax among nature. It's heaven!
14. Chatuchak Market – Bangkok
You can't go to Bangkok without visiting Chatuchak Market, the worlds largest open-air market. Here you'll find never ending clothing stalls, food vendors, bargains, fake labels and vintage jewelry. Take your time, watch your things and be sure to prep for bartering.
While Thailand was predictable is some ways, it surprised me in others. The local people are very kind, the food is tasty and the natural landscapes are breath taking. It's true, some areas are very touristy, but if you can find a way into the rawness of the culture, it's spectacular. Two thumbs up for Thailand!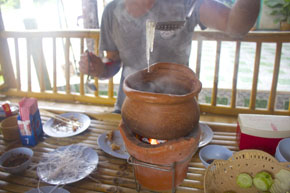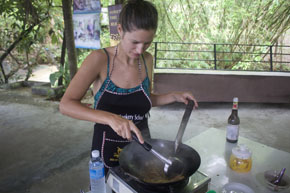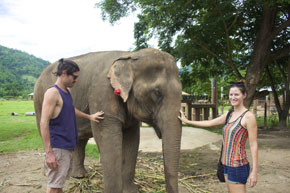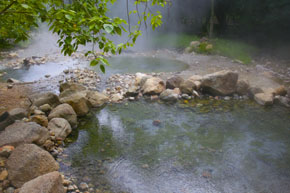 Thanks for reading!
Next Post: Silence for 10 days – Vipassana