It's the birthplace of democracy, Western Philosophy, Olympic games and home to 3 of the greatest Philosophers of our time, Aristotle, Plato and Socrates. For me, coming to Greece made perfect sense with my ongoing interests in learning about human values, morals, behaviours, existence and reality. The word Philosophy itself means, 'love of wisdom.' Greece sounded right up my alley. Admittedly, I'm not that familiar with Greek mythology or history, but I was certainly open to learning. As Socrates wrote, 'The only true wisdom, is knowing you know nothing.'
Coming to Europe after spending several months in Asia was rather interesting. Temples became Churches, spring rolls became croissants, coconuts turned into espressos and smoking cigarettes became an acceptable, seemingly common daily ritual for locals. While I have already been to Europe a couple of times, this was a first for Jack. We were both extremely excited to be in Europe together, embracing every minute of our first few days in Athens. This was just the beginning! Our whole summer would be spent on the diverse, historical, and fascinating continent of Europe.
Walking through the ancient ruins of Athens feels like entering into a different time, a time that's both archaic and foreign. It's easy to imagine men dressed in white togas, gathering around to discuss politics. Then you hear sounds of traditional Greek instruments echoing within the cobble stone streets by hopeful musicians playing for a few spared Euros. The aroma of herbs and spices from the Gyro shacks ignite your appetite. The bakeries with open windows tempt you with delicious treats and pastries. Finally, the never-ending supply of Greek Salad, with crumbled fetta, golden olive oil, fresh tomato and crispy cucumbers. Simply put, a Greek salad will never be the same anywhere else! To top it off, Greece is a coastal country, surrounded by deep blue waters and scattered islands of the beautiful Mediterranean Sea. For good reason, Greece is one of the world's major tourist attractions.
We had 7 weeks in Greece to gain some perspective on the culture and the tourist sites. While much of our time was spent in the less travelled parts of Greece, I can still offer a few good recommendations for aspiring travellers.
Here's a summery of the best places we went to in Greece:
Athens
Mixing modern with ancient, Greece's capital is one of the world's oldest cities. It offers trendy cafes, nightlife, restaurants and festivals. There's certainly no shortage of things to do here. I suggest strolling through Plaka area and making your way to PNYKA Hill – a rocky lookout over the entire city. Conveniently, the lookout is very close to the entrance of the Acropolis. In terms of cafes with good coffee and Wi-Fi, I recommend going to The Underdog or Attika Artopoieia For a trendy and happening spot to meet friends for a drink, check out six d.o.g.s. For good food, there's a family owned restaurant called O Kostas,'which is known for the best Souvlaki in town. Just be prepared for a line up! We also went to Cinque Wine Bar – a very reasonably priced tapas bar. The cheese and meat boards are sensational! Be sure to ask for a complimentary wine tasting before choosing your bottle. Then comes sunset, Athens finest hour. The Acropolis lights glow against the painted sky and the whole city suddenly becomes romantic. I highly suggest going to Athens Was Hotel where you can enjoy a few beverages from the rooftop.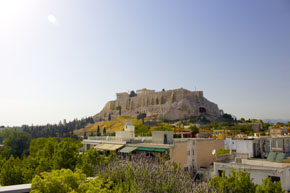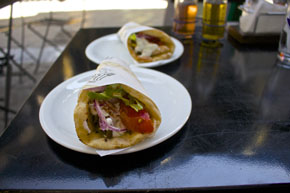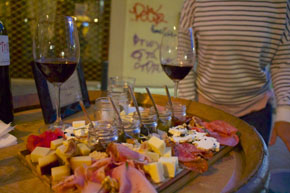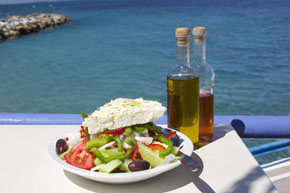 Evia
It's the second largest island in the central region of Greece, less known to tourists and more of a popular holiday escape for locals living in Athens. It's lush and green with charming villages scattered across the island. We actually stayed in an old Greek Villa with an animal farm, in a tiny village called Kirinthos. Here we had a truly unique experience of tending to the gardens and animals, having lunch with locals and meeting up in 'the square' for sunset vinos. It genuinely felt like the real Greek experience.
Angistri
I couldn't leave Greece without seeing some traditional white buildings, blue domes and pink bougainvillea's surrounding them. Since Santorini wasn't on our itinerary this time, Angistri would have to do. Angistri is a tiny island in the Saronic Gulf that can be reached within an hour by ferry from Piraeus (the port in Athens). To be honest, there isn't much to do on this island, aside from a few hikes and going to the beach. However, it is beautiful and worth going to if you're looking for a simple holiday, that's more affordable than Santorini and Mykonos.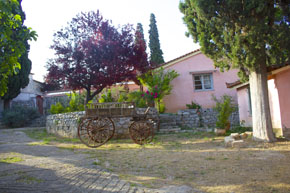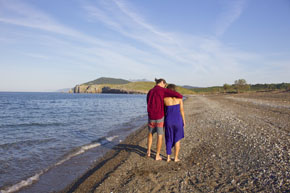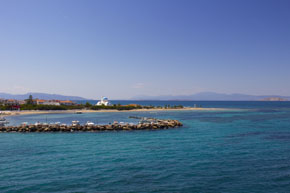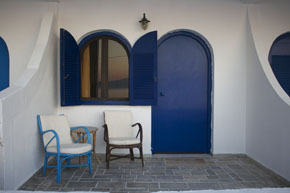 Saronic & Aegean Islands
 While in Angistri, we met Captain Chris. He was a retired Welshman looking for a crew to help him on his 36 ft yacht. Perhaps it was by chance, or luck, or maybe even fate? Sailing around the Mediterranean is something Jack and I frequently brought up, but it was more of a distant dream than a present reality. Either way, we were stoked to jump onboard. Over 10 days, we gained some insight into the 'Boat Life' and learned a new skill while doing it. There's something so unique and liberating about being on a boat. You can feel your body move in different ways by the waves beneath you. You have a perfect combination of the sun shining on your face, a salty sea breeze, and the energy of the ocean all around you. It can make you feel powerful and
insignificant all at the time. I could easily do the boat life! If you're interested in doing something like this, (without leaving it to chance) check out crewbay.com.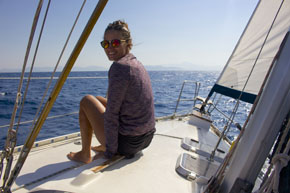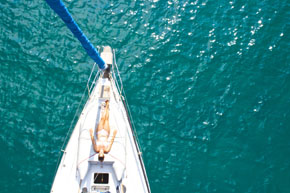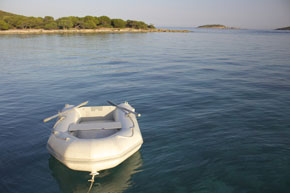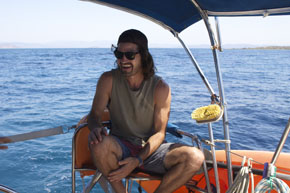 Ultimately, Greece is a really great place to travel. The scenery is breath taking, ancient ruins fascinating and the culture is social and enjoyable. Two thumbs up for Greece!
Thanks for reading!